Ishita kishore marksheet Ishita kishore upsc marksheet Ishita kishore age Ishita kishore date of birth Ishita Kishore UPSC Topper Marks Age Biography 2023
Table of Contents
Personal Profile Of Ishita Kishore
Name: Ishita Kishore
Age: 27 years (born in 1996)
Educational Profile
Graduated with a degree in Economics (Hons.) from Shri Ram College of Commerce, Delhi University in 2017
UPSC Exam Achievement
UPSC Exam: Cleared the UPSC Civil Services Examination in 2022
Rank: Secured All India Rank 1 (AIR 1)
Total Marks: Scored an impressive 1094 out of 2025 marks
Written Examination: Obtained 901 marks
Interview: Scored 193 marks
Roll Number: 5809986
Attempts: This was her 3rd attempt at the UPSC exam
Optional Subject: Chose Political Science and International Relations as her optional subject
Ishita Kishore Marksheet
The Marksheet of Ishita Kishore for Civil Services Exam 2022 is displayed below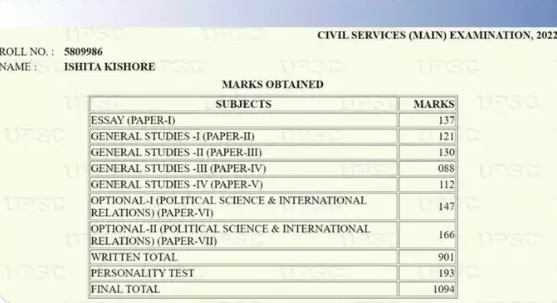 Key Achievements:
Topped the UPSC Civil Services Exam 2023, becoming the All India Rank 1 holder.
Overcame challenges and setbacks, clearing the exam on her third attempt.
Demonstrated exceptional academic performance and dedication, securing a high score of 1094 marks.
Graduated from Shri Ram College of Commerce, Delhi University, with a degree in Economics (Hons.).
Actively participated in extracurricular activities, including representing her college in football tournaments.
Engaged in social work as an intern for the NGO CRY.
Expressed gratitude towards her supportive family for their unwavering belief in her abilities.
Advocates for women's empowerment and aims to contribute to governance and public service.
Served as an inspiration to aspiring civil servants and individuals facing challenges in their pursuit of success.
The Union Public Service Commission (UPSC) recently announced the results of the Civil Services Final Exam, and Ishita Kishore emerged as the topper, securing All India Rank 1 with an impressive score of 1094. The UPSC examination is renowned for its rigor and is conducted annually to recruit candidates for prestigious civil services positions in the Indian government, such as the IAS, IPS, and IFS.
Ishita Kishore, a 26-year-old graduate from Shri Ram College of Commerce, Delhi University, has made her mark in this challenging exam. With a specialization in Economics, she demonstrated her academic prowess and determination. However, her success did not come easily. This was Ishita's third attempt at the UPSC exam, having faced initial setbacks in clearing the prelims. Her perseverance and resilience played a crucial role in her journey towards achieving her dream.
About Ishita Kishor Life
During her college years, Ishita actively participated in extracurricular activities, including being a national-level football player and representing her college in various events. She also engaged in social work as an intern for the NGO CRY, showcasing her commitment to serving the community. Ishita's father, an Air Force officer, and her mother, a teacher, provided unwavering support throughout her ups and downs. Grateful for her family's belief in her, Ishita acknowledges their constant encouragement as a driving force behind her success.
In terms of preparation strategy, Ishita emphasized the importance of discipline and sincerity. She dedicated around 7-8 hours each day to study and managed her time effectively. Recognizing the time constraints of the UPSC exam, Ishita stressed the need for consistency and regular self-assessment to fine-tune one's study plan. Her experience in the corporate sector after graduation also added valuable insights to her preparations.
Ishita's achievements have not only made her family proud but also inspired countless aspirants who dream of joining the civil services. Her success story serves as a beacon of hope and motivation for those who face challenges along their own paths. With a strong passion for public service, Ishita aims to contribute to governance and work towards women's empowerment and the upliftment of marginalized communities.
The impact of Ishita's remarkable accomplishment extends far beyond her personal journey. It instills faith in the aspirations and abilities of individuals aspiring to serve the nation. As she embarks on her future endeavors, Ishita Kishore stands as a testament to the power of dedication, perseverance, and the pursuit of one's passions.
Ishita Kishore Exclusive Interview
Ishita kishore marksheet Ishita kishore upsc marksheet Ishita kishore age Ishita kishore date of birth Ishita Kishore UPSC Topper Marks Age Biography 2023
Q What is Ishita Kishore's Age and Date of Birth
Ishita Kishore is 27 years old as on 2023 and her date of Birth year is 1996
Where I can find the Marksheet if Ishita Kishore for UPSC
Please refer to article above for the detail marksheet for the exam
Please follow and like us: